Type: 24 x 36 mm compact view finder camera with manual pointer, meter needle exposure control.
Specification: Collapsible lens, bet-ween-lens shutter 1/2 to 1/500 sec and B, double exposure and blank frame-lock, exposure metering system coupled to aperture and shutter speed settings, film speed range 25-1600 ASA 15-33 DIN, indicator dial for film type loaded, zelf-zeroing frame counter, X-center contact for flash guns, cable release socket, fitting for carrying strap.
Exposure meter: Pointer/meter needle aligning system with CdS-cell, directed metering to subject foreground, measuring range with 100 ASA 21 DIN film 16 - 16,000 cd/m2, 17.9 - 17.900 cd/sq.yd.; power supply by a MR-9 mercury-battery with 1.35 volts.
Finder system: Optical view finder 0.6x, bright-line frame with parallax marks, showing surrounding subject field.
Lens: Rollei HFT® Tessar 40mm f/3.5, filter thread E 24 x 0.5, made by Rollei under license from Carl Zeiss, Oberkochen, West Germany; collapsible with shutter tensioned. Four elements, four components, aperture range 3.5 to 22, manual focusing to 3 ft / 0.9 m.
Dimensions: Approx. 97x60x30 mm.
Weight: Approx. 325g
Accessories: Carrying strap, carrying case, eveready case, lens cap, folding lens hood with E 24 x 0,5 thread; medium yellow, orange, UV, R 1.5 filter with E 24 x 0,5 thread.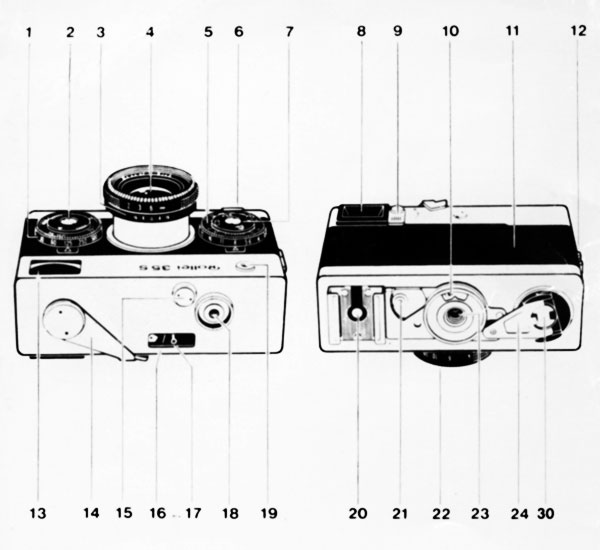 Controls and components:

1 Shutter speed dial
2 Film type indicator
3 Depth of field scale
4 Lens
5 Aperture setting dial
6 Automatic locking ledge for aperture setting dial
7 Film speed dial
8 Finder eyepiece
9 Film rewind lever
10 Frame counter
11 Camera back
12 Fitting for carrying strap
13 Brilliant frame view finder
14 Winding lever for film advance and shutter tensioning
15 Lens barrel release button
16 Meter needle for exposure control
17 Matching pointer
18 Release button with cable release socket
19 CdS cell
20 Accessory shoe with center contact
21 Back lock
22 Distance setting ring
23 Tripod socket 1/4"
24 Rewind crank
25 Screw cap for battery compartment
26 Film pressure plate
27 Sprocket shaft for film advance
28 Slot of take-up spool
29 Milled wheel
30 Rewind axle
More informations:
- The Rollei 35 story by rolleiclub.com
- Download PDF User Manual for Rollei 35 T