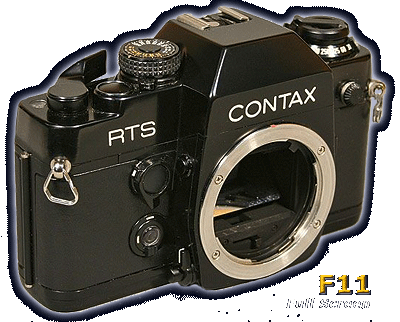 Contax RTS II Quartz
SPECIFICATIONS:
Type: 35 mm single-lens reflex featuring Auto/Manual exposure modes and Quartz-timed operation. - Image Size: 24 x 36 mm - ASA/ISO Range: 12-3200.
Lens Mount: CONTAX/Yashica 3-claws bayonet mount.
Standard Lens: Carl Zeiss Planar T* 50 mm f/1.4, Carl Zeiss Planar T* 50 mm f/1.7
Shutter: Quartz-timed, electronically operated horizontal travel Titanium focal plane shutter.
Shutter Speeds: 1/2000 sec. to 16 sec. in Auto mode; 16 settings in 1/2000 sec. to 4 sec. in Manual mode, with "B" and "X" (1/60 sec.). Note: Mechanical shutter operation possible at 1/50 sec. and 'B' without battery power.
Flash Synchronization: X-synch at 1/60sec. (or slower) via direct hotshoe or X-sync terminal. Flash bulb workable with slower speed (1/30 sec and below).
Self-Timer: Quartz-timed electronic self-timer with 10-sec. delay, cancelable or resettable during operation. LED flashes during operation, accelerating 2 sec. before shutter release.
Shutter Release: Real Time Electromagnetic Release System (with auxiliary remote release off-camera control options via Release Socket).
Exposure Control: Through-the-lens (TTL) center weighted metering at full aperture via Silicon Photo Diode (SPD) cell. Aperture-priority AE mode in EV range -1 (f/1.4 at 4 sec.) to 19 (V16 at 1/2000 sec.) at ASA 100, f1.4 lens. Manual exposure control also provided.
TLA Auto Flash Control: With CONTAX TLA system, separate SPD cell reads flash exposure directly at film plane; 'Fail-Safe' control of flash/shutter synchronization. X-synch terminal for all non-TLA electronic flash units.
Exposure Check Button: Pressing button activates LED display for 16 sec. - AE Lock: Activated by lever, locks in EV setting.
Exposure Compensation: + 2 EV - 2 EV with click-stops every 0.5 EV(can be set for in between-click stops).
Viewfinder: Eyelevel, pentaprism type showing 97% of picture area. Lever operated eyepiece shutter to block out extraneous light during remote control.
Focusing Screens: Microprism focusing screen comes as standard equipment. Seven other interchangeable type screens are available.
Viewfinder Display: Aperture display, exposure compensation display (LED digital display-red), shutter speed display, over- or underexposure display (alpha numerical LED array-red), TLA flash unit flash ready/after-flash signal mark (LED display-green).
Film Advance: With full stroke of 120 degree setting angle and 20 degree standoff position; or film feed indicator, and automatic winding capability when used with motor drive or winder system. - Film Rewind: Film rewind crank-handle with clutch action, and film rewind release button with automatic resetting.
Exposure Counter: Automatic resetting type. Until counter registers "1", camera will automatically set at shutter speed of 1/60 sec. regardless of the setting adjustment on the shutter control dial (except "B" setting). - Multiple Exposures: Possible by depressing film rewind release button.
Accessory Shoe: Direct X-sync hotshoe with dedicated CONTAX TLA capability or other non-CONTAX flash for auto and manual flash operation.
Camera Back: Interchangeable with optional Databack type, Provided with memo holder.
Depth-of-Field Preview: Button operated (Also doubles as mechanical 1/50sec. shutter release button). Mirror Lock: Lever operated.
Power Source: 6.2 V silver-oxide battery (4SR44) (Eveready 544, Ucar 544, Mallory PX28 or equivalent) or 6V alkaline-manganese battery (4LR44).
Battery Check: Low power level indicated by steady or pulsating light pattern of viewfinder LED data display.
Other Features: Provided with couplings for motor drive and winder, and with LED for Data Back application.
Size & Weight: 142 x 89.5 x 50 mm (5-9/16 x 3-1/2 x 2 in) - 735 grams (w/o battery) (25.93 oz).