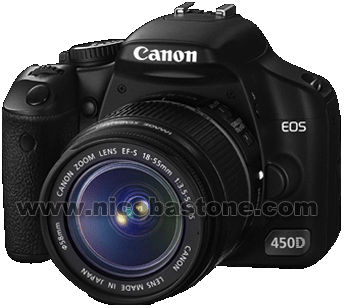 Canon EOS 450D (E)
EOS Digital Rebel XSi (A) EOS Kiss X2 (J)
SPECIFICATIONS:
TYPE
Type: Digital, single-lens reflex, AF/AE camera with built-in flash
Recording Medium: SD memory card, SDHC memory card
Image Format: 22.2 mm x 14.8 mm
Compatible Lenses: Canon EF lenses (including EF-S lenses) (35mm-equivalent focal length is approx.1.6 times the lens focal length)
Lens Mount: Canon EF, EF-S mount

IMAGE SENSOR
Type: High-sensitivity, high-resolution, large single-plate CMOS sensor
Pixels: Effective pixels: Approx. 12.20 megapixels - Total pixels: Approx. 12.40 megapixels
Aspect Ratio: 3:2
Color Filter System: RGB primary color filter
Low-pass Filter: Located in front of the image sensor, non-removable
Dust deletion feature:
(1) Automatic sensor cleaning
(2) Manual cleaning of sensor
(3) Dust Delete Data appended to the captured image

RECORDING SYSTEM
Recording Format: Design rule for Camera File System 2.0
Image type: JPEG, RAW (14-bit Canon original), RAW+JPEG
Simultaneous recording: Provided
File Size:
(1) Large/Fine:Approx. 4.3 MB (4272 x 2848 pixels)
(2) Large/Normal:Approx. 2.2 MB (4272 x 2848 pixels)
(3) Medium/Fine:Approx. 2.5 MB (3088 x 2056 pixels)
(4) Medium/Normal:Approx. 1.3 MB (3088 x 2056 pixels)
(5) Small/Fine:Approx. 1.6 MB (2256 x 1504 pixels)
(6) Small/Normal:Approx. 0.8 MB (2256 x 1504 pixels)
(7) RAW: Approx. 15.3 MB (4272 x 2848 pixels)
- Exact file sizes depend on the subject, ISO speed, Picture Style, etc.
File Numbering:
(1) Continuous numbering
(2) Auto reset
(3) Manual reset (the image numbering is reset to 0001, a new folder is created automatically)

IMAGE PROCESSING
Color Space: sRGB, Adobe RGB
Picture Styles: Standard, Portrait, Landscape, Neutral, Faithful, Monochrome, User Def. 1 - 3
White balance: Auto, daylight, shade, cloudy, tungsten, white fluorescent light, flash, custom
Color temperature compensation: White balance correction: ±9 stops in full-stop increments
White balance bracketing: ±3 stops in full-stop increments (Blue/amber direction or magenta/green direction possible)
Color temperature information transmission: Provided
Noise reduction: Noise reduction for long exposures. High ISO speed noise reduction
Automatic image brightness correction: Auto Lighting Optimizer
Highlight tone priority: Provided
Add original image verification data: Provided (Verified by Original Data Security Kit OSK-E3)

VIEWFINDER
Type: Eye-level pentamirror
Coverage: Vertical/Horizontal approx. 95%
Magnification: Approx. 0.87x (-1 m–1 with 50mm lens at infinity)
Eyepoint: Approx. 19 mm (from eyepiece lens center)
Built-in dioptric adjustment: -3.0 - +1.0 m–1 (dpt)
Focusing screen: Fixed, Precision Matte
Mirror: Quick-return half mirror (Transmission: reflection ratio of 40:60, no mirror cut-off with EF600mm f/4L IS USM or shorter lenses)
Viewfinder information: AF information (AF points, focus confirmation light), exposure information (shutter speed, aperture, AE lock, exposure level, ISO speed, exposure warning), flash information (flash ready, high-speed sync, FE lock, flash exposure compensation), monochrome shooting, white balance correction, maximum burst, SD memory card information
Depth-of-Field Preview: Enabled with depth-of-field preview button

AUTOFOCUS
Type: TTL secondary image-registration, phase detection
AF Points: 9 AF points
Metering range: EV -0.5 - 18 (at 23°C/73°F, ISO 100)
Focusing Modes: One-Shot AF, AI Servo AF, AI Focus AF, Manual focusing (MF)
AF Point Selection: Automatic selection, manual selection
Selected AF Point Display: Superimposed in viewfinder and indicated on LCD monitor
AF-assist Beam: Small series of flashes fired by built-in flash. Effective range: Approx. 4.0 m/13.1 ft. at center, approx. 3.5 m/11.5 ft. at periphery

EXPOSURE CONTROL
Metering Modes: 35-zone TTL full-aperture metering
· Evaluative metering (linkable to any AF point)
· Partial metering (approx. 9% of viewfinder at center)
· Spot metering (approx. 4% of viewfinder at center)
· Center-weighted average metering
Metering Range: EV 1 - 20 (at 23°C/73°F with EF50mm f/1.4 USM lens, ISO 100)
Exposure Control: Program AE (Full Auto, Portrait, Landscape, Close-up, Sports, Night Portrait, Flash Off, Program), shutter-priority AE, aperture-priority AE, depth-of-field AE, manual exposure, E-TTL II autoflash
ISO speed (Recommended Exposure Index): Basic Zone modes:ISO 100 - 800 set automatically
Creative Zone modes: ISO 100 - 1600 (in 1-stop increments), Auto
Exposure Compensation: Manual:±2 stops in 1/3- or 1/2-stop increments (can be combined with AEB)
AEB: ±2 stops in 1/3- or 1/2-stop increments
AE Lock: Auto : When focus achieved with evaluative metering and One-Shot AF
Manual: By AE lock button

SHUTTER
Type: Electronically-controlled, focal-plane shutter
Shutter Speeds: 1/4000 sec. to 1/60 sec., X-sync at 1/200 sec. - 1/4000 sec. to 30 sec., bulb (Total shutter speed range. Available range varies by shooting mode.)
Shutter Release: Soft-touch electromagnetic release
Self-timer: 10-sec. or 2-sec. delay or 10-sec. delay plus continuous shooting
Remote Control: Remote Switch RS-60E3
Remote Controller: RC-1/RC-5

BUILT-IN FLASH
Type: Retractable, auto pop-up flash
Flash metering: E-TTL II autoflash
Guide No.: 13/43 (ISO 100, in meters/feet)
Recycle time: Approx. 3 sec.
Flash-ready indicator: Flash-ready icon lights in viewfinder
Flash coverage: 17mm lens angle of view
Flash exposure compensation: ±2 stops in 1/3- or 1/2-stop increments
FE lock: Provided

EXTERNAL SPEEDLITE
Compatible flash: EX-series Speedlites
Flash metering: E-TTL II autoflash
Flash exposure compensation: ±2 stops in 1/3- or 1/2-stop increments
FE lock: Provided
External flash settings: Flash function settings, Flash C.Fn settings
Zooming to match lens focal length: Provided

DRIVE SYSTEM
Continuous shooting speed: Max. approx. 3.5 shots/sec. (single shots possible)
Maximum burst: JPEG (Large/Fine): Approx. 53
RAW: Approx. 6
RAW+JPEG (Large/Fine): Approx. 4
- Based on Canon's testing standards with a 2GB SD memory card, ISO 100, and Standard Picture Style
- Varies depending on the subject, SD memory card brand, image-recording quality, etc.

LIVE VIEW FUNCTIONS
Shooting modes:
(1) Live View shooting
(2) Remote Live View shooting
- with a personal computer installed with EOS Utility
Focusing: Manual focus, Autofocus (Quick mode, Live mode)
Metering modes: Evaluative metering with the image sensor
Metering range: EV 0 - 20 (at 23°C/73°F with EF50mm f/1.4 USM lens, ISO 100)
Grid display: Provided
Exposure display: Simulated exposure displayed in real-time

LCD MONITOR
Type: TFT color liquid-crystal monitor
Monitor size: 3.0 in.
Dots: Approx. 230,000
Coverage: Approx. 100%
Brightness adjustment: 7 levels provided
Interface languages: 20

IMAGE PLAYBACK
Display format: Single image, Single image + Image-recording quality, shooting information, histogram, 4- or 9-image index, magnified view (approx. 1.5x - 10x), rotated image, image jump (by 1/10/100 images, or shooting date)
Highlight alert: Provided (Overexposed highlights blink)

POWER SOURCE
Battery: Battery Pack LP-E5 (Quantity 1)
(AC power can be supplied via AC Adapter Kit ACK-E5)
(With Battery Grip BG-E5, size-AA batteries can be used)
Battery life: At 73°F/23°C: No Flash/600 50% Flash Use/500 - At 32° F/0°C: No Flash/500 50% Flash Use/400
- The above figures apply with a fully-charged Battery Pack LP-E5)
- The figures above are based on CIPA (Camera & Imaging Products Association) testing standards)
Battery Check: Auto
Power Saving: Provided. Power turns off after 30 sec., 1, 2, 4, 8, or 15 min.
Date/time backup battery: Built-in secondary battery
Startup time: Approx. 0.1 sec. (Based on CIPA testing standards)

DIMENSIONS AND WEIGHT
Dimensions (W x H x D): 128.8 x 97.5 x 61.9 mm / 5.1 x 3.8 x 2.4 in.
Weight: Approx. 475 g / 16.8 oz. (body only)

OPERATING ENVIROMENT
Operating Temperature Range: 0°C - 40°C / 32°F - 104°F
Operating Humidity Range: 85% or less

- All the specifications above are based on Canon's testing standards.
- The camera's specifications and exterior are subject to change without notice.
- If a problem occurs with a non-Canon lens attached to the camera, consult the respective lens maker.
MORE: