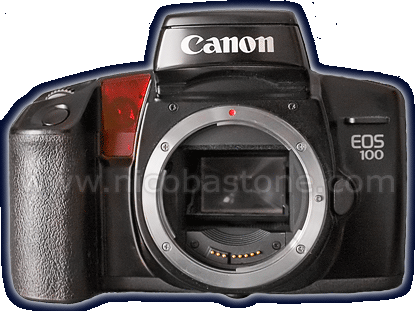 Canon EOS 100 (Elan)the quiet autofocus


TYPE AND MAJOR COMPONENTS
Type: 35mm focal plane shutter SLR (single-lens reflex) camera with autofocus, auto exposure, built-in flash and built-in motor drive.
Lens Mount: Canon EF mount (electronic signal transfer system)
Usable Lenses: Canon EF lenses
Viewfinder: Fixed eye-level pentaprism. Gives 90% vertical and horizontal coverage of actual picture area and 0.75 x magnification with 50mm lens at infinity.
Dioptric Adjustment: Built-in eyepiece is adjusted to — 1 diopter (eyepoint: 20 mm).
Focusing Screen: Fixed, overall matte screen with AF frame and partial metering mark.
Shutter: Vertical-travel, focal plane shutter with all speeds electronically controlled.
Shutter Speed: 1/4000 - 30 sec. and bulb. X-sync is 1/125 sec. Set in 1/2-stop increments.

AUTOFOCUS
AF Control System: TTL-SIR (Secondary Image Registration) phase detection type using Cross-type BASIS (Base-Stored Image Sensor). Two autofocus modes available: One-shot AF and Al Servo AF. Manual focusing also possible.
AF Working Range: EV 0 - 18 at ISO 100.
AF Auxiliary Light: Automatically projected when necessary.

EXPOSURE CONTROL
Light Metering: TTL full-aperture metering using a 6-zone SPC (silicon photocell). Three metering modes available: evaluative metering, partial metering (covers approx. 6.5% of the central picture area) and center-weighted average metering.
Metering Range: EV -1 to 20 (with 50mm f/1.4 lens) at ISO 100 (normal temperature).
Shooting Modes:
1. Program AE
2. Shutter-priority AE
3. Aperture-priority AE
4. Depth-of-field AE
5. Full Auto
6. Bar-code program mode
7. Programmed Image Control (Portrait, Landscape, Close-up, Sports)
8. Flash AE (A-TTL or TTL program flash AE with built-in flash or dedicated speedlite)
9. Manual exposure
Camera Shake Warning: Operates in Full Auto, Program AE, Aperture-priority AE, Depth-of-field AE, Programmed Image Control, and bar-code program modes. Camera-shake indicator blinks in viewfinder when automatically-set shutter speed becomes 0 to 0.5 stops slower than "1/focal length of the lens in use."
Multiple Exposures: Up to nine exposures can be preset. Automatically clears upon completion.
Exposure Compensation: +/- 2 stops in 1/2-stop increments.
Auto Exposure Bracketing: +/-2 stops in 1/2-stop increments. Three continuous exposures are taken in sequence: one under, one at the standard metered value, and one over.

FILM TRANSPORT
Film Speed Setting: Automatically set according to DX code (ISO 25-5000) or set by user (ISO 6-6400).
Film Loading: Automatic. Film automatically advances to first frame when back cover is closed.
Film Wind: Automatic using dedicated miniature motor.
Two modes are available: single exposure and continuous exposure (3 fps maximum). '
Film Rewind: Automatic rewind at end of roll.

OTHER
Self-timer: Electronically controlled with a 10-sec. delay.
Remote Control: Possible using optional remote control unit.
Custom Function Control: Seven built-in custom functions selectable by user.

POWER SOURCE
Battery: One six-volt lithium battery (2CR5).
Battery Check: Battery automatically checked when command dial moved to position other than "L". Battery condition indicator displayed on LCD panel.

SIZE
Dimensions: 154.2(W) x 105.0 (H) x 69.1 (D) mm/ 6-1/16" x 4-1/8" x 2-3/4"
Weight: 580 g/20.3 oz without battery (body only)

BUILT-IN FLASH
Type: Retractable type TTL automatic zoom flash housed in pentaprism. Series control system.
Guide Number (ISO 100, m/ft): 12/40 (28mm) to 17/60 (80mm)
Flash Coverage Angle: Automatically zooms to cover the field of view of 28mm, 50mm and 80mm focal lengths.
Recycling Time: Approx. 2 sec.
Firing Conditions: Fires automatically in low-light or backlit conditions in Full Auto, Programmed Image Control and some bar-code modes.
Flash Contacts: X-sync contact. Directly coupled contacts provided on accessory shoe. Red-eye reduction, 2nd. curtain sync, flash output compensation.


Marketed: August 1991
Original Price: 118,000 yen (w/EF 28-80mm f/3.5-5.6), 76,000 yen (body)
This was the world's first AF SLR camera which incorporated the concept of silent operation. The newly-developed silent mechanisms reduced film advance noise and rewind noise by one-eighth to one-half the level of previous models. The built-in flash's coverage adjusts automatically (auto zoom) to suit the lens focal length. Red-eye reduction, second-curtain sync, and flash exposure compensation were other flash features. The Quick Control Dial on the camera back also enables real-time exposure compensation adjustment while you looked through the viewfinder. It was a feature-laden, mid-class multi-mode 35mm AF SLR.